Serial Watchdog System
Peace of Mind, we leave home and office assured that our PCs are tended and will be running while we are away.
The Serial Watchdog System is a high-reliability tool for any PC with an available COM port The system provides two highly flexible counters, one for interrupt/interval timing and another for reset timing (with an easy-to-install interface). The interrupt and watchdog timers (WDT) can be set anywhere from 1/4 second to 4 hours. When the watchdog timer expires, the power (120VAC, 6Amp) outlets are turned off for 4-7 seconds, then turned back on. Normally the PC is plugged in to the serial watchdog, and the serial watchdog is connected to the UPS. An additional port is provided for external modem power or whatever other peripheral requirements you might have.
Operational Philosophy
The underlying premise is that your PC does productive work. So long as it is working, you don't want to increase its work load--just let it work. However, as soon as it quits working you want to give it a kick start, and if necessary a reset/reload.
To accomplish this, the Serial Watchdog System provides external hardware to which you write (through the COM port) data periodically. You choose the time element -- anywhere from 1/4 second to 4 hours -- that you want the Watchdog to assume you are healthy. If your application ever fails to send a new "I'm healthy" command, the watchdog hardware can automatically turn your computer off and back on.
The system encourages you to be PROACTIVE in your analysis. The Serial Watchdog System provides this capability by generating interrupts by toggling the DCD line on the COM port. Once set, the interrupts keep coming (DCD keeps changing) at your specified frequency until you disable them.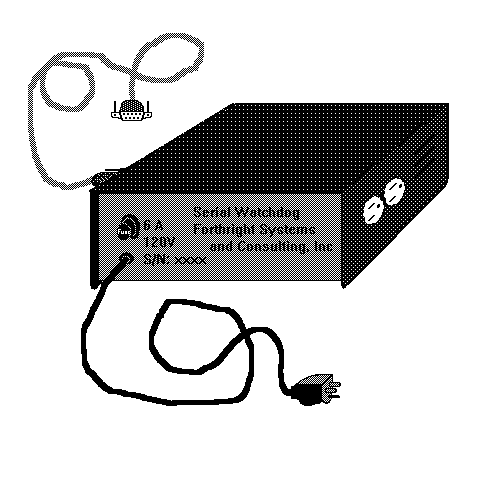 Pricing

     Quantity      Price
      1 - 14     $199.95 each
     15 - 49     $174.95 each
     50 or more  $149.95 each

For further information, send e-mail to stan@forthrt.com, or call (913)299-9240.
Current release software available for view/download:
---
Home | Web Hosting | Software | Hardware | Services
Subscriber Directory | User Support Forum
Inquiries to webster@forthrt.com or call us at (888)-349-7501 -or- (913)299-9240